Have you evaluated your project's potential cost and schedule savings from utilizing modularization?  Haskell's constructability team has assisted in the assessment and execution of module delivery for many clients.  Combined with our field construction expertise, Haskell knows how to successfully evaluate and implement modularization; having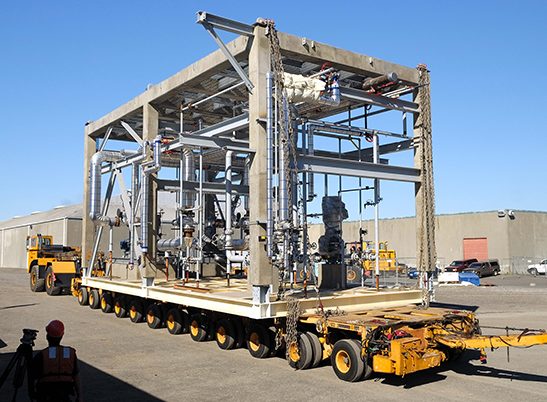 fabricated and assembled modules for over 50 years.  From small truckable skids to large sea-lift modules, our experience and capabilities are extensive. Our headquarters facility in Bellingham is located adjacent to Interstate 5 and less than a mile from both rail and deep sea port facilities thus minimizing logistical transportation challenges.
With our fully integrated steel and pipe fabrication shops co-located with our construction management team, we have successfully completed many skid and modular process plants. These projects include a fully operational micro LNG plant that was assembled, evaluated and operated at our facility before being disassembled, loaded onto trucks, and then delivered to its' final location in North Dakota where Haskell crews then performed the final installation work on site.
For larger modular projects, we have working arrangements for dockside fabrication properties on the Bellingham waterfront and the Port of Anacortes module yard. The close proximity of these locations to our fabrication shops allow us to minimize costs.
Haskell has vast experience in logistics, fabrication, and construction to meet the rigid requirements of assemblies that will be fabricated to support sub-arctic process destinations in Alaska. Many of the modular units Haskell has built have been for projects in the Aleutian Islands, the Alaskan interior, and the North Slope.