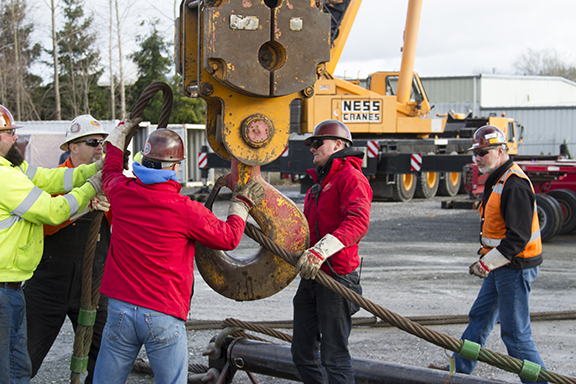 Haskell Corporation's success is due to a dedicated, hard working and professional work force and we pride ourselves on extremely low employee turnover. We offer positions ranging from Safety Professionals to Project Management, Field Supervision and Engineering to Estimating and Accounting. If you're interested in a career with us, please send us your resume for consideration. Our current opportunities are listed below.
Haskell has many upcoming projects in 2018 and is currently seeking qualified applicants in:  
Washington, California, Alaska, Wyoming, Montana and Utah:
Heavy Civil Project Managers and Site Managers
Industrial Project Managers and Site Managers
Civil, Structural, Mechanical Equipment and Piping Superintendents
Site Quality Control Professionals
Site Safety Professionals
Field Engineers with Mechanical Expertise
Projects Controls including P6 scheduleing and cost control
Contract Managers
Material Control Specialists
Project Manager / Site Manager
A Project Manager establishes a project execution framework that complies with the contract and ensures the safety, quality, value and timeliness and facilitates a successful team.
Specific Responsibilities include:
Directs the execution of all aspects of the project in accordance with contract documents
Establishes and maintains effective client relations to achieve active cooperation, prompt payment, and stimulate the desire to award follow-on work.
Ensures strict compliance with Corporate and Project safety programs and goals
Defines staffing requirements and leads the project team
Establishes and maintains an efficient and cost-effective project environment
Provides strong leadership and communication amongst owners, engineering and subcontractors.
Able to lead and manage Project Controls including Primavera CPM scheduling, WPS and change management to ensure a proactive execution.
Sets strong example on attendance and punctuation
Job Requirements Include:
Bachelor's degree in construction management, engineering or other technical field from an accredited university or equivalent professional experience.
10+ years of referenced Heavy Industrial Projects specifically in Power, Petrochemical, Process, Manufacturing, Government Contracting or Heavy Civil.
Heavy Civil experience must include underground, storm, sewer, major earthmoving, pump stations & concrete structures
Has experience in and demonstrates successful understanding of estimating, project controls and scheduling
Strong interpersonal and communication skills
Excellence in leadership
Willingness to travel
Proven track record
Honesty and Integrity
Construction Manager
This multi discipline position is responsible for the day to day coordination of project execution.
Specific Responsibilities include:
Promoting company and project safety plans and goals
Ensure projects are completed according to schedule, within budget and to established quality standards.
Pursue and manage qualified subcontractors ensuring conformance to project standards as well as cost/schedule requirement
Oversee and manage site discipline superintendents including creating schedules, prioritizing tasks and driving productivity
Schedule all trades people and materials deliveries. Ensure owner supplied items are delivered timely and properly received, stored and installed..
Conduct job site meetings as required during construction period.
Job Requirements Include:
Ten years of construction experience desired, with experience supervising Industrial construction projects
Must be highly motivated, able to prioritize multiple tasks, and possess well-developed negotiation skills. Highly developed communication skills necessary, both verbal and written. Incumbent must be able to travel to varied work locations.
May be required to work shift work or overtime, including weekends and holidays. Excellent project management skills. Knowledge of construction techniques and scheduling, strong interpersonal skills to facilitate effective coordination and resolution of construction requirements.
 Effective communication skills for interface with all levels (i.e. Company management, owners, city government officials, vendors, subcontractors, etc.)
Honesty and integrity