Haskell Corporation got its start in the boom, turn-of-the-century settlement of New Whatcom on Bellingham Bay-where 22-year old Edwin Haskell, a craftsman and entrepreneur, first settled after coming west in 1890.
One of Edwin's first ventures was a salmon cannery. Before 1900, he took on two partners, Munro, Blake & Haskell specialized in residential and commercial plumbing, sheet metal work and retail hardware sales. Soon Edwin's son Frank started work at the shop, continuing to expand the business after his father's death.
During the 1940's Haskell took on work at the Naval Shipyard in Bremerton and across the state at the Hanford Atomic Energy Works. In 1949, under the direction of the new President, Red Haskell, the company became deeply involved in the dynamic development of the territory of Alaska. During the 50's and 60's Haskell built hundreds of projects in many remote regions. Due to the company's logistical expertise Haskell launched a successful pursuit of projects in the South Pacific including hospitals, water and sewage treatment plants, utility distribution, and more.
With Alaska becoming a state in 1960, the North Slope oil discovery, and strong growth in the Pacific Northwest, Haskell efforts in the 1970's and 80's centered around major industrial contracts. This included new oil refineries, aluminum smelters, pulp and paper mills and substantial modular construction for the North Slope oil fields. Through this diversified approach, business expanded in both fabrication and industrial construction.
Haskell Corporation has enjoyed continued expansion in its industrial and heavy commercial markets for the last 30 years. Under the direction of Fred Haskell, CEO since 1984, Haskell Corporation has become known as one of the largest and most diversified industrial and fabrication contractors on the West Coast and including Alaska.
Who we are today
Haskell Corporation continues to operate with the same family core values and business principles that have produced successful projects over 120 years. Behind those values and principles are an experienced and diverse team of professionals that offer an exceptional level of longevity with the company. We pride ourselves on our abilities and qualifications to effectively execute a
wide variety of heavy industrial projects, from refinery upgrades and turnarounds to new power plants and manufacturing facilities to remote government projects. The company motto, "Challenges Met, Promises Kept" captures the can-do attitude and commitment to excellence embodied in the Haskell way of serving its customers.
Fred Haskell retired  in the beginning of 2016. He still has an active hand in his family's legacy heavy industrial construction business, Haskell Corporation. But at the start of 2016 he passed along the day-to-day top executive role to his son, Evan.
That made the fourth hand-off to a Haskell son in the company's storied 125-year history. Evan's great-great-grandfather Edwin Haskell started the chain in a bustling, rather new city called Bellingham during 1890, and ran the company about 25 years.
The tree branches grew long and strong. Frank assumed control during the 'teens, Red during the '50s, and Fred in 1984. (One of Red's brothers worked in the company, running the business in Skagit County for many years.)
Haskell Corporation has moved stealthily into the fore of heavy industrial construction and fabrication in this entire corner of the Northwest U.S., and ranked No. 4 last year on the Business Pulse Top 100 of privately-owned companies with reported sales topping $125 million.
To get there, Fred Haskell had very large footprints to follow, footsteps he'd walked in since he was 12 years old: F. Murray Haskell, known popularly as "Red," was a community icon (a former Business Pulse Lifetime Achievement Award recipient, for one thing) who died at 79 in 2002.
By then, the company's expertise and market niche had changed dramatically. "Our early reputation," Fred Haskell said, "was in HVAC specialization (heating, ventilation, and air conditioning), throughout Whatcom and Skagit Counties. Until the early '80s it was all about mechanical engineering in plumbing and HVAC."
A few years before that a transition set in. The catalyst was contracts in Alaska. "We started working the North Slope within the oil industry," Fred said. "We became involved in modular construction for pipeline." The business grew out of contacts built over a period of decades; the Haskell family had begun working in Alaska in 1949, "
and we're still there today."
Today, though, the scope is as broad within the heavy industrial trade as broad can get. The company does business in locations that cross oceans (Hawaii, American Samoa), North American tundra, and the mountains of the Great Northwest. And that's just the geographical outreach.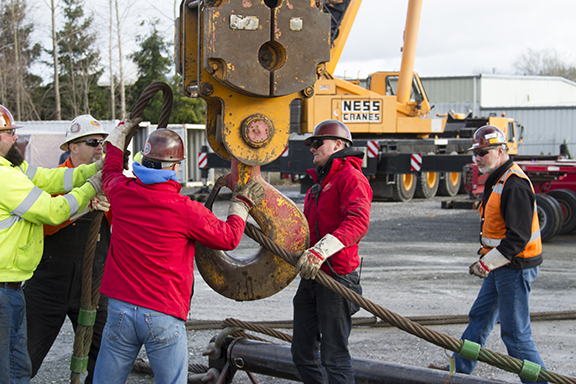 In terms of performance, the Haskell Corporation website is tell-tale. It describes the company's breadth of expertise as "a heavy industrial, general contractor, and fabricator," constantly evolving and expanding. "We perform a wide variety of EPC (engineering procurement construction), Design-Build, Construction Management, as well as field and shop fabrication construction services to clients in power, pulp and paper, renewable energy, manufacturing & processing, ASME (American Society of Mechanical Engineers) assemblies and structural steel fabrication."
Whew. Oh, wait
there's more. Under specific applications, the business stretches through nine bullet-pointed specialties, self-describing as having "the ability to self-perform (these) construction activities."
This all started steamrolling into new arenas during Fred Haskell's realm.
"In the '80s (just before he took over) we decided to move into industrial general contracting," Haskell said. During his 31 years at the helm, they show major projects – ranging from several thousands of dollars upward to over $100 million – in American Samoa (since 1979), Hawaii, Alaska, California, Idaho, Utah, Oregon, and Washington. About 1 ½ years ago Haskell Corporation opened a satellite office in Salt Lake City.
Clients include city and regional governments, the Parks & Recreation Department in Seattle, Boeing, and monstrous electric power plants such as in California and Alaska.
"We're in the infancy of branching into the Midwest and Southwest, too," he said. "Some of our newer emphasis is on refining and petro-chemical projects. Plus, a lot of modular steel fabrication.
"We're focused on three P's – pulp, paper, and power."
As a youth hustling around the company doing whatever they'd let him do – "I started working in the business when I was 12" – he never foresaw all of this happening. After high school he started a five-year apprenticeship program. "I enrolled at Western (Washington University), and a week later I got my draft notice."
Haskell joined the Air National Guard and served six years. He later attended Western, but Haskell Corporation became his life. And now, he's walked away from the daily operations and spends more time with family, fishing, and traveling, leaving Evan to carry on. (The Haskell's other son is with Rice Insurance.)
Evan Haskell went to Central Washington for a management degree, but like his father, he started working for the company as a youth. "He worked on summer projects in remote locations of Alaska," Fred said. "He's worked his way through the ranks, assisting mechanics, driving forklifts, and cranes. He's done it all."
Five generations of Haskell experience has produced, in Fred's view, "One of our best driving principles – the family's understanding of the strong construction industry, and a great passion for what we do."
Looking ahead, Fred Haskell said that the company's future lies in developing more globally in the marketplace, and continuing to become more diversified.
He'll watch from at least some distance. "Next year will be my 50th year with the company," he said. "It's time to transition and move forward."
And even further down the road? Evan has three sons, all still quite young. Fred said, "We'll see someday if one, two, three, or any of them want to continue
."